April is commonly known for the joys of blooming spring tulips and Easter festivities, but we also wanted to let you know about Child Abuse Prevention Month, because the need to place children in safe and nurturing homes is our top priority. We want ALL parents to have the necessary educational tools to protect their child from harm.
---
But first, what is child abuse?
According to Childhelp, child abuse is when a parent or caregiver, whether through action or failure to act, causes injury, death, emotional harm or risk of serious harm to a child. There are many forms of child maltreatment, including neglect, exploitation, and physical, sexual, and emotional abuse.
Below are 5 things parents can do to protect their child from abuse.
---
1. Involvement Is Key
Being an active participant in your child's day-to-day life is a key component to noticing warning signs of abuse. It will make your child feel more comfortable using their voice to inform you about the abuse if any.
---
2. Get To Know Your Child's Friends And Their Parent/Guardian
Ask your child questions about their classmates, teachers, tutors and other people they may encounter. This will help you gauge how adults outside the home engage with your child. It will encourage your child to speak openly about their likes and dislikes about their environment. If any concerns arise, you have the opportunity to protect your child by taking the necessary steps.
---
3. Evaluate Child Caregivers
Anyone who provides direct care to your child needs to be properly evaluated. Taking this extra step will decrease your anxiety about your child's safety in your absence due to work or other obligations.
---
4. Make Yourself Available
When a child has your undivided attention during quality time, it encourages them to use their voice, because you have established a safe nurturing environment for them to do so. Quality time is the perfect opportunity for children to ask questions or raise concerns. If they do have concerns, let your child know they will not get in trouble or punished for speaking up.
---
5. Encourage Open Communication
Lastly, teaching your child about setting boundaries and identifying body parts is crucial to them letting you know if they feel uncomfortable. When a child is self-aware, they stand up for themselves. This empowerment also encourages them to tell an adult.
---
We hope these were helpful tips to empower our families to protect their child from abuse. If you're interested in other parenting tips, read The K-12 Sexual Education Curriculum, A Take on Child Abuse Prevention Month, Bullying and Your Role as a Parent or Spotting Signs of Sexual Abuse in Foster Children.
---
Stay connected to Arms Wide Adoption Services on Facebook, Instagram, Twitter to learn more helpful tips to keep your children safe.
---
About The Author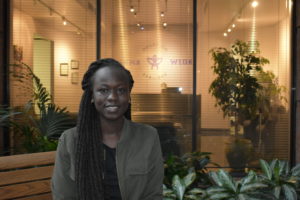 As the Spring 2019 Marketing Intern, Meerber Ojoch will assist with coordinating social media outreach, collaborating with program staff to write blog posts, implement recruitment ideas and activities to the Family Recruitment team, and help leverage Child Abuse Prevention Month (April) and Foster Care Month (May). Read more about Meer here.