At Arms Wide Adoption Services, we want ALL parents/guardians/caregivers to be equipped with the necessary tools to help eliminate child abuse. April is Child Abuse Prevention Month. Throughout this month, we hope to spread awareness to protect all children from perpetrators. Below, you can find a list of suggested reading children's books to help parents teach and discuss how to identify appropriate and inappropriate touch.
---
Body Boundaries
"Clara is growing up, and she is proud of who she is becoming. She is happy and healthy and enjoys spending time with family and friends. There are times that she likes to be touched-tickling with friends, hugging Papa, or snuggling on Granny's lap. However, there are other times when she does not want to be touched, and Clara is confident in her ability to say no."
"Helping kids set healthy boundaries for their private parts can be a daunting and awkward task for parents, counselors and educators. Written from a kid's point of view, I Said No! makes this task a lot easier."
"God Made All of Me starts from the fundamental truth that God created everything and applies that truth to kids and their bodies. It equips parents to talk with both boys and girls about their bodies and to help them understand the difference between the appropriate and inappropriate touch of others. God Made All of Me allows families to build a first line of defense against sexual abuse in the safety of their own homes."
"The crucial skills taught in this book will help children to protect their bodies from inappropriate touch. Children will be empowered to say in a strong and clear voice, "This is my body! What I say goes!"
"A little squirrel announces that he was once very, very, scared and finds out that he is not alone. Lots of little animals went through scary experiences, but they react in different ways. Turtle hides and gets a tummy ache, monkey clings, dog barks, and elephant doesn't like to talk about it. They need help, and they get help from grown-ups who help them feel safe and learn ways to cope with difficult feelings."
---
Now that you've added these books to your shopping cart, we've got more tools coming your way! Check out Healthy Sex Talk: Teaching Kids Consent, Ages 1-21, Child Sexual Abuse Facts & Resources, or State Child Abuse and Neglect Reporting Numbers. We hope this is informative and made parenthood a tad bit easier.
---
How You Can Help Kids Now
Finally, if you would like to help our adoptive and foster care families learn more about child abuse prevention, check out our Amazon Wish List. These proceeds benefit our incredible foster care resource room called the Angel Room. The Angel Room helps foster families. When children come into care in emergency situations, they need basic necessities. The Angel Room helps get them through their first few days in foster care. Click here to learn more.
---
About The Author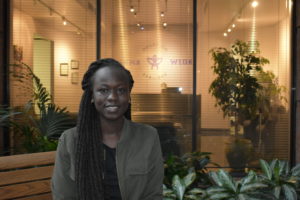 As the Spring 2019 Marketing Intern, Meerber Ojoch will assist with coordinating social media outreach, collaborating with program staff to write blog posts, implement recruitment ideas and activities to the Family Recruitment team, and help leverage Child Abuse Prevention Month (April) and Foster Care Month (May). Read more about Meer here.